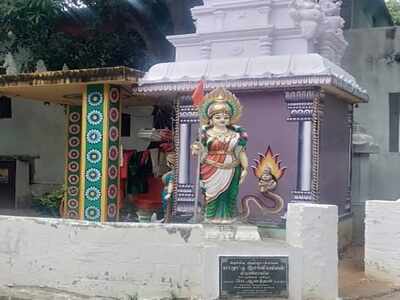 NEW DELHI: Reacting strongly to an incident of Tamil Nadu where a daily wager was asked by the local police to remove a statue of Bharat Mata, BJP leaders Tarun Vijay and KJ Alphons have sought chief minister Edappadi K Palaniswami's intervention in the matter.
Muthu Kumar, a daily wage earner, had erected a statue of Bharat Mata near a temple in Kanyakumari, Tamil Nadu. But citing complaints from Christians living in the locality, the police asked Kumar to remove the same.
In a letter to the Tamil Nadu CM, the BJP leaders urged him to immediately restore the honour and dignity of Bharat Mata.
The letter said that Bharat Mata is an icon of faith and our devotion to India, which has inspired millions of revolutionaries during the freedom struggle.
"It is still an icon of inspiration for our soldiers and common people alike. At a time when we are faced with the coronavirus pandemic, we must stand united and defeat the deadly virus with solidarity," the letter said.
"We, Hindus and Christians, are one people. All the children of Bharat Mata should stand united and those who try to divide us must be defeated," the letter further read.
Both the leaders urged the CM to help Kumar to uphold the dignity of Bharat Mata. They also requested him that the concerned police officials be punished sternly.
Follow:Source link