MUMBAI: Three equestrian show jumpers from city, who excelled during the previous two
Asian Games
, are starving for practice and hoping
lockdown restrictions
get eased up to enable them work with their horses at the Amateur Riders' Club (ARC) at the
Mahalaxmi Racecourse
soon.
"My horse and I were preparing for the Regional Equestrian League hosted by the ARC which now stands on hold due to the lockdown," said Yashaan Khambatta, the first Indian to ever reach the final round of a show jumping event in Asian Games which he did at the Incheon in 2014.
"I am targeting to qualify and train towards winning gold at the 2022 Asian Games to be held in Hangzhou, China. Selection for the Asian Games will begin as early as 2021 and therefore I need to train extensively with my 10-year-old Lorenzo who will be my partner in 2022," added 31-year-old Khambatta who now tries to stay fit with light cardio twice daily along with a strict diet.
The 23-year-old Kaevaan Setalvad, who too had made it to the final round at the Jakarta Asian Games in 2018, is too concerned about his 12-year-old gelding Cherokee's fitness. "The horses with which we train are trained especially for show jumping and their muscular development and training is special and specific which is undertaken at the ARC. Any interruption results in muscle loss and a sudden deterioration in flexibility. During the lockdown, we are constrained to only exercise them on a lunging rein, which is nowhere near good enough for competing at the highest level," informed Kaevaan.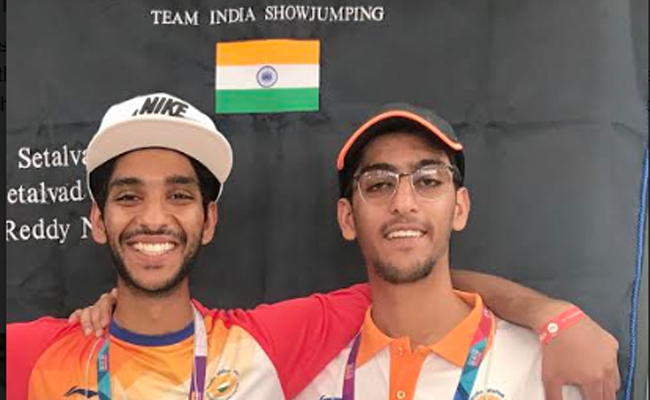 Kaevaan and Zahan Setalvad


Kaevaan is keeping himself fit and toned by following a Fitness App for a daily two-hour intensive workout. "However, there is no alternative to riding. Post the lockdown it will take several weeks, if not months, for the horses as well as us to return to competitive fitness levels," stated the final year law student who is aiming for a top spot at the podium at the Hangzhou Games.
Kaevaan's younger brother Zahan is worried about losing his fitness level and a great understanding he had developed with his horse Quintus over several weeks due to lockdown. "Quintus had performed creditably at the finals in Jakarta despite suffering a travel injury at the Jakarta airport just before the Asian Game," said Zahan. "I wish lockdown ends quickly so that I can get back with Qunintus in training and try to qualify for the Hangzhou showpiece," added the 2nd year law student at Government Law College near Churchgate.
The partner horses of these stars are housed at the ARC stables where they used to train before lockdown stopped them in their tracks. ARC president Shyam Mehta too is keen to see them back in action again. "These boys have been sharpening their skills at our ground and making our club proud. We are ready to extend all the necessary help in their endeavour once we get the government to go ahead to resume practice," Mehta said.

Follow:Source link